Where can I get the available functions in the spreadsheet?
Posted by Jason Standley, Last modified by Jason Standley on 11 October 2017 01:18 PM
You can print out the guide containing all the functions or while in the spreadsheet, click on "Formulas" on the menu bar. A drop-down will list all the available functions.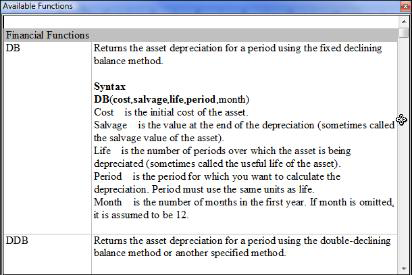 You can copy from this dropdown menu the formula syntax you want to use, by highlighting the syntax and pressing CTRL- C (copy). You can then paste the formula into the spreadsheet editing bar using CTRL-V. You will then need to add "=" to the beginning of the formula and replace the syntax placeholders with the appropriate values/addresses to allow the function to work properly.
Thank You,
Support
---