RPPro- Estoy recibiendo un mensaje: Unhandled Exception... Failed to connect to an IPC Port: The System cannot find the file specified
Posted by Roger Creek on 23 October 2012 04:08 PM
Si recibe un error "Unhandled Exception...Failed to connect to an IPC Port: The System cannot find the file specified."". Al abrir el software, por favor siga los pasos a continuación.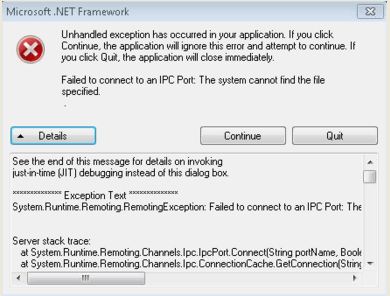 Abra el menú Inicio
Abra el Panel de control
Para abrir Programas y características (XP: Abra Agregar / Quitar Programas)
Desinstalar Servicio SSIRuntime
Descargue el archivo adjunto SSIRuntimeService.zip
Busque el archivo SSIRuntimeService.exe donde lo guardó y extraerlo
Double-Click SSIRuntimeSerice.exe volver a instalar el SSIRuntimeService
Una vez que haya completado los pasos anteriores, intente ejecutar el software de nuevo y si sigues recibiendo el error, por favor póngase en contacto con nosotros de nuevo.
Gracias,
Soporte Técnico!
---