RPPro-I'm using a Mac and I receive an "Authentication" error or a "Time Out" error when accessing my course
Posted by Roger Creek, Last modified by Roger Creek on 07 August 2014 04:53 PM
If you receive an authentication error when accessing your course in Securexam it may be related to a setting in Safari from a recent update. The setting in Safari causes both Safari and Securexam to give an error when accessing your course. To resolve this issue please follow the steps below to allow all Cookies:
Open Safari
Click Safari in the top left corner
Click 'Preferences'
Click Privacy (see below)
Change the setting to 'Never' (see below)
Close the Preferences Window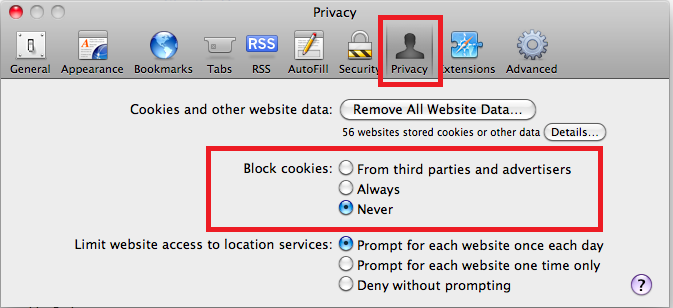 You should now be able to successfully access your course in both Securexam and Safari. If you continue having technical problems, please do not hesitate to contact us back.
Thank you,
Support
---