I am getting a message stating that "My Documents" is being saved in a remote location or that "The documents folder is not located in default location". What does this mean?
Posted by Andrew Haste, Last modified by Jason Standley on 09 March 2018 03:07 PM
The issue is that the software is designed to autosave backups to the (C:) Drive. If the "My Documents" folder is not set to store files on the (C:) and is instead pointing to another location (say a network location), the software will throw this error.
To resolve this error:
The documents folder is not located in default location. Follow the steps below to resolve.
The Documents folder (Windows 7, 8, 8.1, 10) must be set to the local machine and not a remote drive. To reset the original settings following the below steps:
Click the Start Menu.
Right-click the "Documents" folder.
Select the "Properties" command.
Select the "Location" tab at the top of the window.
Confirm that the location is set to the local hard drive (generally the (C:))
If the location is not local, the user should contact their IT staff to change the setting or use a different account.
--OR--
Check the software configuration file called SecurexamStudent.exe located in the installation folder, typically C:\Program Files(x\Software Secure, Inc\Securexam Student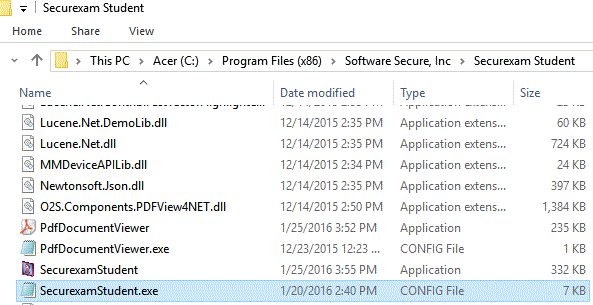 To make changes or edit the SecurexamStudent.exe config file, you must copy or move the entire file to the desktop.
Next, Open up the file in Notepad or Word.
In the <appSettings> section of the configuration file, look for a setting called "Use My Documents"
Set the value to "False" if it is " True" and save the file.
Again, the value should not read "True" but "False"
Example: <add key="UseMyDocuments" value="False"/>
Once the changes are made, copy or move the entire file back to its original location. Please make sure you remove the .txt at the end of the file.
The default directories the Securexam software will now use are the following:
C:\Users\Username\AppData\Local\SSI\username e-mail
Thank You
Support
---